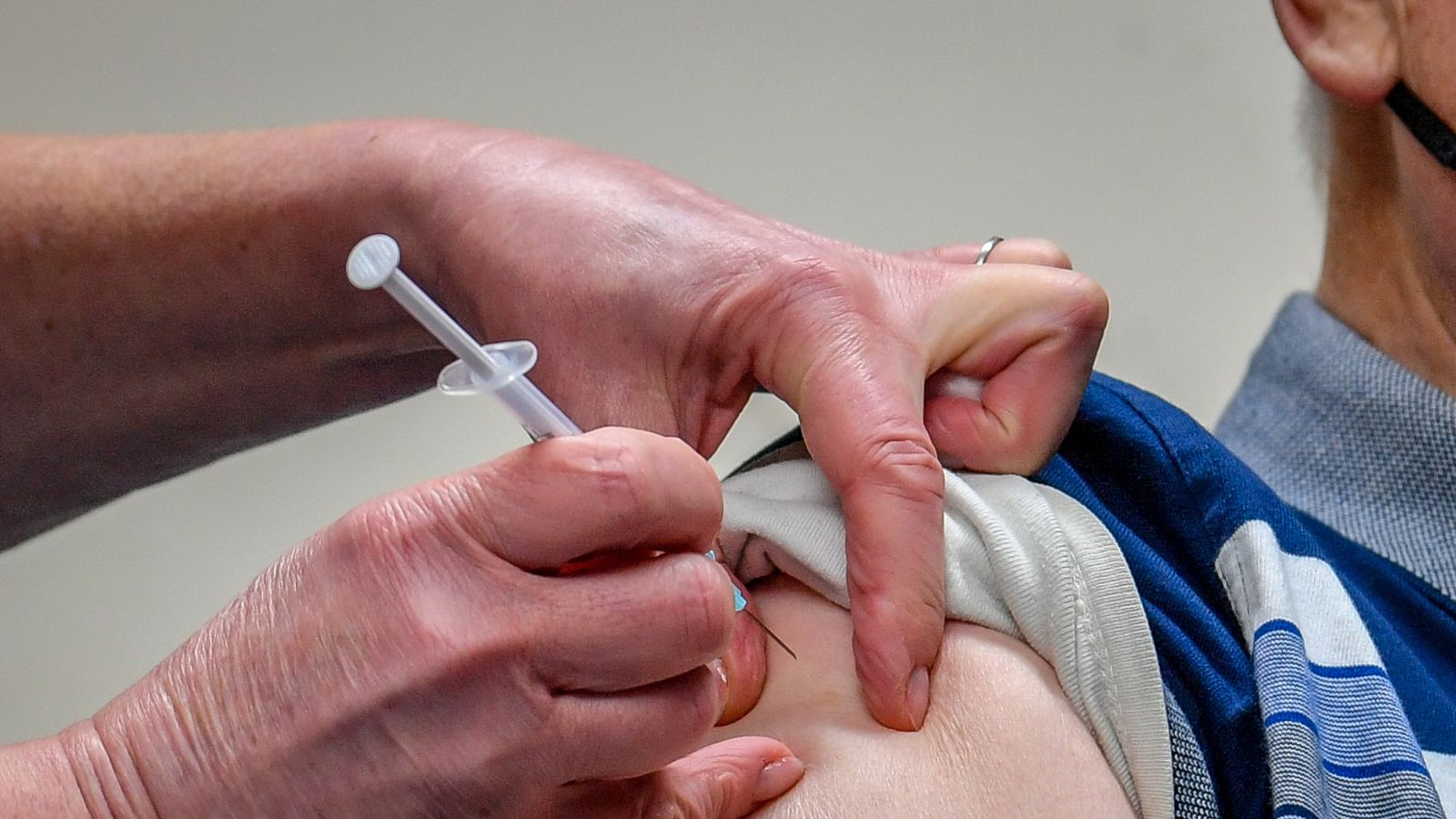 [ad_1]
The benefits of launching the coronavirus vaccine in the UK may be offset by the rise in infections from people who believe they no longer have to comply with COVID rules, government officials have warned.
A survey found that more than a quarter of people (29%) intend to adhere less strictly coronavirus restrictions after receiving a vaccine, according to the Pandemic Influenza Behavior Scientific Group (SPI-B).
The group urges the government to take steps to "mitigate any decrease in accession related to the launch of the vaccine", given the "very high cost to health, welfare and economy" due to the increase in the number of people ignoring the rules.
Watch live COVID updates from the UK and around the world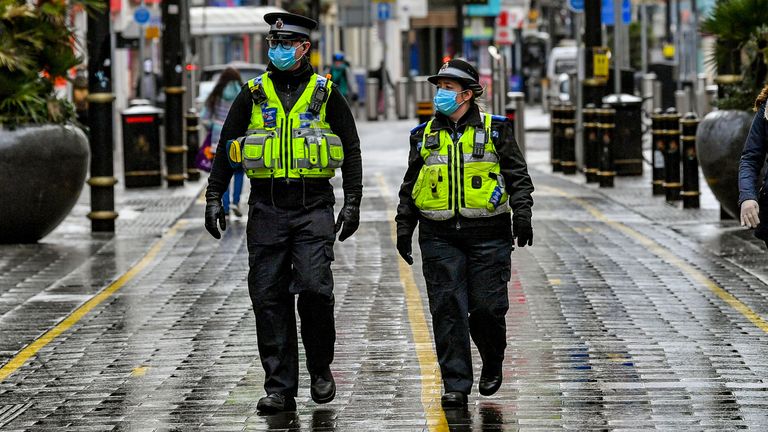 In a paper published on Friday, SPI-B warned that modeling suggests that "reduced adherence could greatly offset the benefits of vaccination by increasing infection rates, especially in the first months, before there is a high degree of coverage."
"While concerns about the vaccination program have focused primarily on the logistics and funding of vaccine delivery, it is important to consider possible unintended consequences," SPI-B said.
One of the unintended consequences of vaccination is the risk of reduced population adherence to other protective behaviors, such as cleaning hands, wearing a mask, maintaining physical distance, limiting interaction with large groups, and adhering to quarantine.
He added: "Adherence could decrease if people feel less need for protection or the rules and guidelines seem less important to them because the focus is more on the vaccine."
SPI-B, which advises the Scientific Advisory Group on Emergencies (SAGE), said that businesses and politicians "can further undermine efforts to promote accession" if they start encouraging people to return to normal activities due to rising vaccination rates.
"(For example), bars that include" all our employees are vaccinated "as part of them COVID through messaging, this could have a negative impact on adherence to other protective behaviors, "the group added.
A national survey in early December found that 50% of people said they would still comply with coronavirus rules or restrictions after a vaccine was given, the document said.
However, 29% said they would adhere less strictly than before, with people between the ages of 18 and 24 being the most likely to say so, she added.
Worryingly, 11% said they "probably won't follow the rules anymore," SPI-B said.
The group called on the government to develop a communication strategy "to ensure that people fully understand why it is vital to continue to adhere to protective behaviors, whether or not they have been vaccinated."
He added: "Make sure people realize that vaccination, no matter how effective, poses a risk.
"Uncertainty about protection against infection or transmission and duration of protection, despite serious vaccination against COVID-19, should be highlighted."
SPI-B also encouraged ministers to "add monitoring of vaccine status and vaccine-related beliefs and behaviors" to their existing methods of examining whether people comply with COVID-19 rules.
On Friday, the UK approved the third coronavirus jab, Modern vaccine, following the launch of the Pfizer and Oxford / AstraZeneca vaccines.
Seven million doses of Moderna vaccine had already been ordered by the British government, with another 10 million to follow – but it will probably not be available until March.
On Thursday, Prime Minister Boris Johnson said 1.26 million COVID vaccines had been administered in England so far, with 113,000 in Scotland, 49,000 in Wales and 46,000 in Northern Ireland.
The government has set a target to deliver the first doses to 14 million of the most vulnerable by February 15.
The R number of the UK coronavirus – which indicates how fast the virus is spreading – has risen between 1 and 1.4, it was announced on Friday.
However, the figure does not take into account the latest national deadlock due to a delay in data.
Meanwhile, new figures show that more than 30,000 fines have been imposed by the police for violating COVID-19 laws since they came into force.
Data released by the Council of National Police Chiefs on Friday showed that a total of 32,329 fixed-term notifications were issued by forces in England and Wales between March 27 and December 21 last year.
[ad_2]
Source link