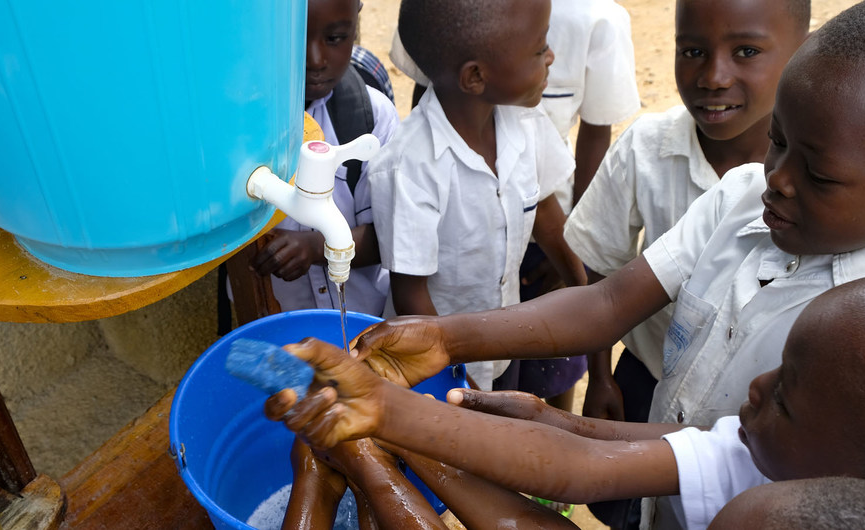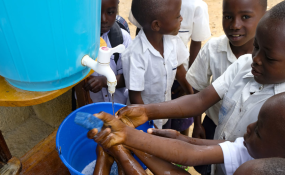 Photo by Thomas Nybo / UNICEF
Teaching that handwashing is one of the best ways to protect yourself against Ebola, school children in Beni, RD Congo, are visiting a UNICEF Handwashing School.
Through the UN News Center
Although new measures are being taken to combat the outbreak of the Ebola epidemic in the Democratic Republic of Congo (DRC), the epidemic remains dangerous and unpredictable, the United Nations said on Thursday.
In a joint mission at the epicenter of the outbreak, around Beni, near the Ugandan border, Tedros Adhanom Ghebreyesus, World Health Organization (WHO) Director-General and UN Peacekeeping Chief, Jean-Pierre Lacroix, spent Wednesday the ground for themselves, along with Health Minister Oly Ilunga Kalenga. They met local officials, health workers, civil society leaders and peacekeepers.
Since the outbreak in August, there have been 308 cases and 191 deaths, of which about half were in Beni, with a population of approximately 800,000.
Although some attacks continued in the surrounding villages, the UN Stabilization Mission there, MONUSCO, has taken an active approach in recent weeks to mitigate the work of the armed group in the North Kivu area and to protect Beni's conflict.
"Although this has helped reduce the number of new cases in the last two weeks, the situation remains serious," the WHO said in a press statement. Under the leadership of the Ministry of Health, WHO and partners use community surveillance in difficult areas to navigate for aliens, allowing workers to track the contacts of any person who has been infected.
"We are confronted with many complex challenges, but it is encouraging and inspiring to see our efforts to deliver as the UN have been extremely successful in many hotspots and will help stop the outbreak and save lives," said Lacroix.
The current epidemic, the tenth country, is about to overcome the biggest outbreak in 1976, which recorded 318 cases in total, resulting in 280 deaths.
Since the start of the outbreak, MONUSCO has witnessed Ebola's response by providing logistical support, office facilities, transportation, communication and safe staffing due to security threats.
After decades of conflict, the Ebola response teams have experienced misinformation and mistrust over some local populations who are reluctant to allow vaccination programs or adhere to the rules of contact tracing and funeral.
"The fact that we have hindered Ebola from spreading to neighboring countries so far is a testament to the work and determination of employees from all partners," the WHO chief said. "As complex and provocative as this outbreak, I am confident that working with the Ministry of Health, MONUSCO and all our partners, we can and will finish it."
WHO has around 280 employees in North Kivu, claiming hundreds from the Ministry of Health and its partners. Patients are treated in six new centers, which are operated by the Ministry of Health and partners. Each is supported by a mobile lab for quick case diagnosis and treatment guidance.
To date, 27,000 people have been vaccinated against Ebola, and almost every new patient receives one of four experimental treatments, which has never been possible before during an Ebola outbreak, WHO said. The Agency noted that, despite the loss of life, 91 people recovered and returned to their communities thanks to their efforts and joint efforts by national and international respondents.
Both UN officials paid tribute to the staff dedicated to WHO, MONUSCO, the Ministry of Health and all partners fighting a dangerous outbreak under extremely difficult conditions.
Source: UN News