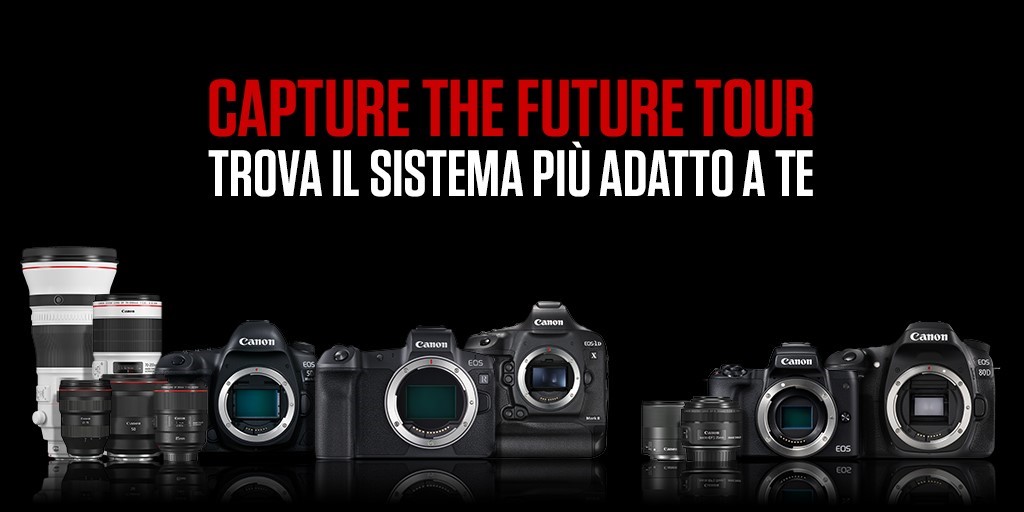 [ad_1]
By Francesco De Innocentis
Milan. November 9, 2018 – Turn on Canon captures the future tour, a unique event that will allow fans to discover the system EOS R and all the creative possibilities that it offers.
The first stage was already in October Rome, with the occasion Videocittà and in the coming days the tour will come Catania and then fly to Milan. It will be possible to put your hands on the whole range canon, from the system EOS R to APSC, including the mirror M50, to the full range of reflections fullframe.
meeting Catania will take place sabato 10 November to Grand Hotel Villa Itria, where much will happen workshop and activity which will keep participants busy during the day between 9:30 and 19:00.
Here are the main events of the day:
11.00 – 11.45 Alessandro Ravazzani and David Metalli, Canon Italy

"The new Canon EOS R system"
12.00 – 12.45 Gabriele Pavan, Canon Technical Representative

"Secrets of professional printing with PIXMA and PIXMA PRO"
2.00pm – 2.45pm Marco Abba, Wedding Videographer

"Wedding and Photography Video: EOS, EOS R and EOS CINEMA"
15.00 – 15.45 Mariano Bevilacqua, coach of Canon

"Canon EOS R: A New Shooting Mode"
4.00pm – 4.45pm Andrea Benedetti, coach of Canon

"Case Study EOS R: Bernina GT 2018 – Usage in the New Canon Without Mirror Frame"
17.00 – 18.30 Paolo Verzone, Canon Ambassador & Photo World Winner

Meeting with the author: "Creating a photographic story, choosing the right system for every need"
The tour will continue with the double appointment of 16 and 17 November to Milan, at Pergolese area, in Via G. Pergolesi 8.
Participating in events is free of charge and open to everyone: just register your membership in the community Canon Pass.
[ad_2]
Source link