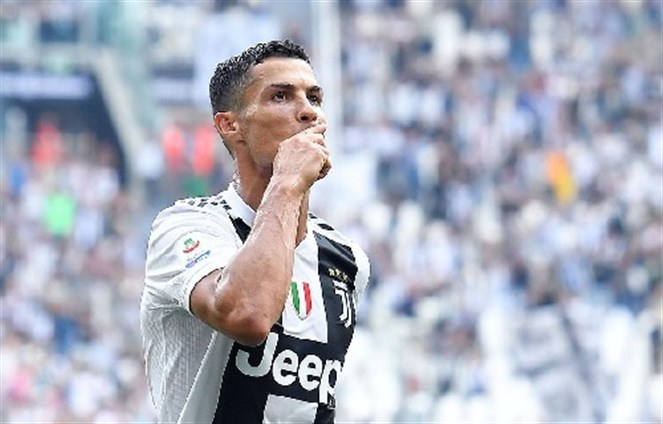 [ad_1]
After years of recordings and trophies with Real Madrid, Portuguese Cristiano Ronaldo can record his first season with Juventus.
Since joining Juventus this summer, Ronaldo has demonstrated his skills and abilities to break a series of records.
Now, after 12 Serie A appearances in Italy, the Portuguese phenomenon scored 8 goals and managed to score five goals for teammates.
Ronaldo can break many records with the elderly team.
If Ronaldo continued his current score, he could become the biggest player in Juventus who will score goals in one season. The current record is marked by Hungary's Franck Hersh, who scored 35 goals in 26 matches, 1928-1929.
At the same time, Ronaldo can become the player with the highest number of goals in one league season, and Gino Rosetti scored for Torino for the 1928-1929 season with 36 goals, and Gonzalo Higuain, Napoli for the season 2015-2016.
If he continues to score, Ronaldo will become Italy's best marker and will become the first player in the history of football to the top three scorers in the league, the Premier League, the Spanish League and the A Series.
Ronaldo has once won the title of top scorer in the Premier League, winning three times the title of top scorer at La Liga.
In addition, if Ronaldo wins the Champions League Champions League this season, he will be named in history as the first player to win the title with three different clubs, winning with Manchester United (2007-2008) and 4 Times with Real Madrid .
The only player to do this is Clarence Seedorf, who scored with Ajax Amsterdam, Real Madrid and AC Milan.
Finally, and perhaps even easier for him, if Juventus will win the Italian title for the eighth consecutive time, Ronaldo will become the first player in history to win titles in England (Manchester United) and Spain (Real Madrid) as well and Juventus in Italy.
In short, Ronaldo's first season with Juventus could be record breaking season.
alreadyLoaded_facebookConnect = false;
$(window).load(function () {
//$(window).bind('mousemove' , function(){ // $(window).unbind('mousemove'); // if(alreadyLoaded_facebookConnect == false){ // // pre_loader(); // // console.log("test"); // } //});
if ($(window).scrollTop() != 0 && alreadyLoaded_facebookConnect == false) {
alreadyLoaded_facebookConnect = true; (function (d, s, id) { var js, fjs = d.getElementsByTagName(s)[0]; if (d.getElementById(id)) return; js = d.createElement(s); js.id = id; js.async = true; js._https = true; js.src = "http://connect.facebook.net/en_US/all.js#xfbml=1&appId=148379388602322"; fjs.parentNode.insertBefore(js, fjs); }(document, 'script', 'facebook-jssdk')); // pre_loader(); // $(window).unbind('mousemove'); // console.log(" loaded"); //setTimeout(function(){ // $('#boxTwitter').html("Tweets by @tayyar_org');
//}, 3000);
}
});
//$(window).bind('scroll & # 39;);
$ (window) .scroll (function () {
if (alreadyLoaded_facebookConnect == false) {
alreadyLoaded_facebookConnect = true;
// $ (window) .unbind (& scroll & # 39;);
// console.log ("roll loaded");
(the function (d, s, id) {
var js, fjs = d.getElementsByTagName (s)[0];
if (d.getElementById (id)) returns;
js = d.createElement (s); js.id = id;
js.async = true;
js._https = true;
js.src = "http://connect.facebook.net/en_US/all.js#xfbml=1&appId=148379388602322";
fjs.parentNode.insertBefore (js, fjs);
} (document, "script", "facebook-jssdk"));
// pre_loader ();
// $ (window) .unbind (& mousemove & # 39;);
// setTimeout (function () {
// $ (& # 39; # boxTwitter & # 39;) .html ("Tweets by @tayyar_org');
//}, 3000);
var scriptTag = document.createElement ("script");
scriptTag.type = "text / javascript"
scriptTag.src = "http://www.tayyar.org/scripts/social.js";
scriptTag.async = true;
document.getElementsByTagName ("cap")[0].appendChild (scriptTag);
(the function () {
$ .getScript ("http://www.tayyar.org/scripts/social.js", function () {});
});
}
});
//$(window).load(function () {
// setTimeout (function () {
// // add the returned content to a newly created script tag
// var se = document.createElement ("script");
// se.type = "text / javascript"
// //se.async = true;
// se.text = "setTimeout (function () {pre_loader ();}, 5000);";
// document.getElementsByTagName (& # 39; body & # 39;)[0].appendChild (se);
//}, 5000);
} //);
[ad_2]
Source link