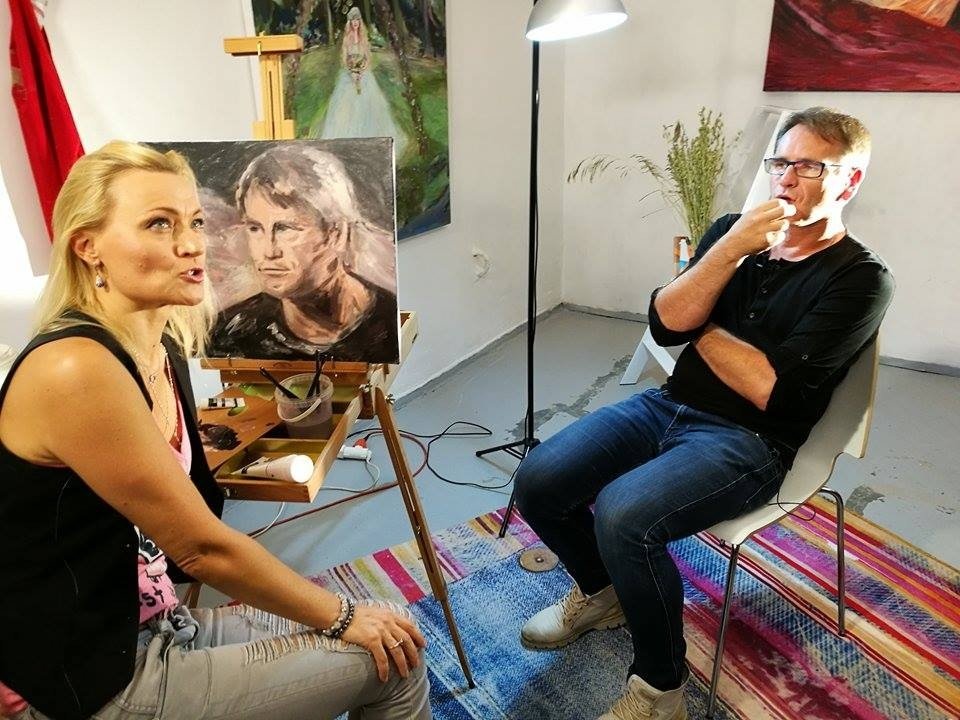 [ad_1]
The "Art Detector" is launched by journalist Ligita Juknevičiūtė, created together with a long-time colleague of the musician and producer Remigijus Ruokis. The format of this version was born in Ligita's mind, when a journalist who wrote two novels ("The wedding is not!" And "The wedding will be!") Working for a long time on television revived its old painting hobby.
The "Art Detector" is an original non-analogue format in the world where the journalist talks with prominent people and at the same time becomes their portraits.
While filming this show, Marijus Mikutavičius relaxed and was very open. Asked if he took part in the interrogation, Marijon recalled his school hours, when he was still a minor, who was summoned by an interrogator because of the misdirection of the school and slowing down the school.
"Just at home, I realized it was very good to tell me and to teach everything I needed. I betrayed my friends," Marijon acknowledged half a laugh, half seriously.
Speaking of spiritual experience, Marijon confessed that he did not believe in angels or supernatural beings.
"In fact, I grew up baptized and only when I was 29, I drank wine with my older friend during a party and decided to baptize. The next day I did the same. I believe Jesus Christ was a real person, but I do not believe in dragons, "whispered Marijon.
During the conversation, Marijonas did not talk about a wide range of topics – parental affairs, depression, hunting, musical crises, and the meaning of life.
"I'm trying to keep my head in the sense of life since I'm 40. To feed my seeds as much as possible, as my friend says, it's probably the meaning of life." "Well, it would be good to raise these children," said Ligita Juknevičiūtė, who was a friend of Marijon from the joint study of journalism at the University of Vilnius.
After checking his former rally, the wedding with the mother of the child, Ieva Daugirdaite, will certainly be, Marijonas unfortunately did not reveal the date and place of the wedding.
After the interview finally saw his portrait, Marijon laughed, "Are I really such a ruby, maybe you can make a little kick and chin? Such a young boy, but I do not like anything."
Later, the man confessed that such an experience was interesting. "For the first time I made a portrait and at the same time I gave an interview, so while I was a journalist, sometimes I felt like talking to myself."
"This is not bad," concludes author L. Juknevičiūtė.
"As you become, the interlocutor does not dare to sink into himself, and with himself you are especially open and relaxed, so that with the help of art one person does not seem worse than verified by a lie detector.
From this, the title of the program was born "Art Detector". I am very grateful to Marion for trust, I could have painted it, just as Kisa and Bender shot "Sainter" in the movie "12 Chairs," an offensive journalist.
In the future, the "art detector" intends to go to public spaces, provide video and portraits of conversations in various unexpected places in Lithuania, as well as spectators in the halls.
See the whole cable here:
It is strictly forbidden to use the information published by DELFI on other websites, in traditional media or elsewhere or to distribute our materials in a certain form without consent, and if consent is obtained, it is necessary to indicate DELFI as source.
[ad_2]
Source link