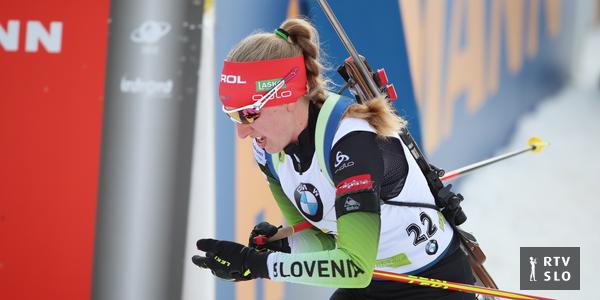 [ad_1]
After Kontiolahti in Finland and Hohcfilzn in Austria, Oberhof is third in the World Cup in Germany. The matches will also take place over two weekends. For the introduction, the men and women competed in the sprint, and by far the most successful were the Norwegians.
Despite a penalty kick, Johannes Thingnes Boe celebrated his 50th career victory (only Björndahlen and Fourcade are ahead of him on the eternal ladder) after being 11 seconds faster than his brother Tarjei Boe and 21 seconds faster than another Norwegian, Sturlle Holm Laegreid
Jakov Fak missed the third shot at the second stop, but caught another fifteen with a good minute ago (the match is not over yet, Fak is currently 12), after running very fast in the last round.
There have been four different winners in the four sprints so far, but all from Norway: Johannes Thingnes Boe, Tarjei Boe, Johannes Dale and Sturlla Holm Laegreid. Johannes Thingnes Boe leads in the special amount of the discipline and also in the General World Cup.
The sovereign victory of the impeccable Eckhoff
In the women's event, the fifth sprint of the winter of 2020/21 was won by the Norwegian Tiril Eckhoff, who was the best in the second sprint in Hochfilzn. With a quick run and an impeccable shot, he overtook the Swede Hanna Oeberg for half a minute, the winner of both sprints at Kontiolahti, who also broke all 10 targets. The success of her career and the first podium for the winners came the 27-year-old Lisa Hauser from Austria, who overtook the Frenchwoman Julie Simon by four seconds.
Ten seconds to sixty
Of the 104 biathletes, three Slovenes competed, but did not rank among the top 60 and thus in Saturday's pursuit match. Polona Klemenčič, who scored the first points for the World Cup in the previous sprint with 38th place, was 67 this time and missed 60 with 10 missed shots in 10 seconds. Nika Vindišar and Nina Zadravec were far from successful and finished in the biathletes' queue, in 85th and 101st place.
There will be two follow-up matches at the Oberhof on Saturday and mixed relay matches on Sunday.
---
OBERHOF, Germany, sprinting, 7.5 km:
COMMON ORDER
Women (10/32):
// Production steps of ECMA-262, Edition 6, 22.1.2.1 Array.from||(Array.from=function(){var r;try{r=Symbol.iterator?Symbol.iterator:"Symbol(Symbol.iterator)"}catch //IE11 polyfill if (!String.prototype.includes) { String.prototype.includes = function() { 'use strict'; return String.prototype.indexOf.apply(this, arguments) !== -1; }; }
// Cookie helper var cookieHelper = { getCookie: function(name) { var value = "; " + document.cookie; var parts = value.split("; " + name + "="); if (parts.length == 2) return parts.pop().split(";").shift(); },
setCookie: function(name, value, days) { var d = new Date; d.setTime(d.getTime() + 24*60*60*1000*days); document.cookie = name + "=" + value + ";domain=.rtvslo.si;path=/;expires=" + d.toGMTString(); },
deleteCookie: function(name) { cookieHelper.setCookie(name, '', -1); },
cookieExist: function(cookieName) { if (document.cookie.split(';').filter(function(item) { return item.includes(cookieName + '=') }).length) { //console.log('Cookie founded!'); return true; } return false; } }; // END: Cookie helper
// iProm (function(a,g,b,c){ a[c]=a[c]||function(){ "undefined"===typeof a.ipromNS?(a[c].q=a[c].q||[]).push(arguments):a.ipromNS.execute(arguments)}; var k=function(){ var b=g.getElementsByTagName("script")[0];return function h(f){ var e=f.shift();a[c]("setConfig",{ server:e}); var d=document.createElement("script");0-1){ cookieConsent = true; } var $sid = 'sport'; var $ssid = 'zimski_sporti'; if($sid == ''){ $sid = 'default'; } if(cookieConsent == false){ $sid = 'safe'; $ssid = ''; } //console.log('rtvslo',$sid,$ssid); _ipromNS('init', { sitePath: ['rtvslo',$sid,$ssid], cookieConsent: cookieConsent }); // END: iProm
// Dark mode, Comments & Login if (document.cookie.indexOf('darkModeEnabled=true') != -1) document.body.classList.add('dark-mode'); if (document.cookie.indexOf('showComments=true') != -1) document.body.classList.add('show-comments-enabled'); if (document.cookie.indexOf('APISESSION') != -1){ document.body.classList.add('user-logged-in'); }else{ document.body.classList.add('user-logged-out'); }
// Mobile check var mobile = false; var mobile_xs = false;
var checkIfMobile = function checkIfMobile() { var w = window.innerWidth || document.documentElement.clientWidth || document.body.clientWidth;
w < 992 ? (mobile = true) : (mobile = false); // 992px = lg breakpoint w < 576 ? (mobile_xs = true) : (mobile_xs = false); // 576px = sm breakpoint }; checkIfMobile(); window.addEventListener("resize", checkIfMobile); // iOS standalone var isIos = function isIos() { var userAgent = window.navigator.userAgent.toLowerCase(); return /iphone|ipad|ipod/.test(userAgent); }; // Detects if device is on iOS var isInStandaloneMode = function isInStandaloneMode() { return "standalone" in window.navigator && window.navigator.standalone; }; // Detects if device is in iOS standalone mode var showIosNative = false; if (window.location.href.indexOf("show-ios-native") !== -1) document.cookie = "showIosNative=true"; if (document.cookie && document.cookie.indexOf("showIosNative=true") != -1) showIosNative = true; if ((isIos() && isInStandaloneMode() && mobile) || showIosNative) document.body.classList.add("ios-standalone"); // Facebook if(document.cookie && document.cookie.indexOf("cc_social=yes") > -1){ (function(d, s, id) { var js, fjs = d.getElementsByTagName(s)[0]; if (d.getElementById(id)) return; js = d.createElement(s); js.id = id; js.src="https://connect.facebook.net/sl_SI/sdk.js#xfbml=1&autoLogAppEvents=1&version=v3.1&appId=142347525793254"; fjs.parentNode.insertBefore(js, fjs); }(document, 'script', 'facebook-jssdk')); }


[ad_2]
Source link