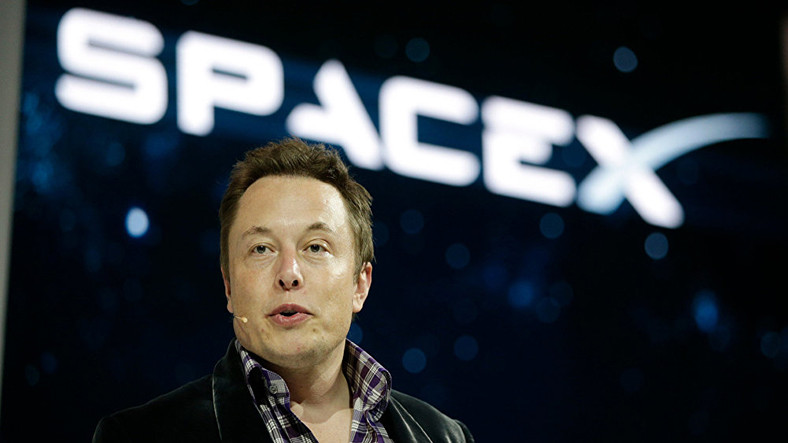 [ad_1]
The Federal Communications Commission, responsible for US communications surveillance, such as satellite, television and radio, unanimously endorsed the ambitious SpaceX plan to launch the 7,518 satellite into orbit.
SpaceX, founder and CEO of Elon Musk, was a key step in the Starlink project. Approved satellites will be the Starlink project backbone with 4,425 satellites previously approved by the Federal Communications Board. Wanting to set up a universal broadband network, the company is headed for providing high-speed Internet coverage in every corner of the planet. SpaceX is expected to spend more than $ 10 billion on satellites to launch in this space.
SpaceX plans to send 4,425 in the first phase of the project and then send 7.518 Starlink to a low orbit. The first group will be 1,100 km with 1,100 km of soil, and the second will be at 335 km and 346 km altitude. The 7,518 sent satellite will operate in densely populated areas.
SpaceX, due to the proximity of satellites to be shipped to the world, the cable and fiber optic networks currently in use will compete with the Starlink Internet network at 25 ms, and the high-speed gigabit will reach high-speed reports. The Starlink project will not only ensure speed, Internet access is poor or inadequate due to infrastructure.
AFFILIATES NEWS
SpaceX will conduct the first test for the fast Internet project to cover the earth's environment!
Elon Musk and his team must do this quickly and quickly because, according to Federal Communications Authority rules, at least 50% of all approved satellites must be sent over the next 6 years. At the same time, the launch of all satellites in orbit must be completed in 9 years. Thus, SpaceX has a maximum of 9 years for 11,943 satellites. To see the magnitude of the figure, the number of satellites in orbit is 1,886.
On February 22, 2018, the company successfully launched two test satellites called "Tintin A" and "Tintin B" for the Starlink project. These two satellites are now tested on small locations. It is not known whether these two test satellites will be used on the network in the future. We will see how far Elon Musk and SpaceX will progress in this project.
$ (Function () {
// facebook window.fbAsyncInit = function () { fb.init ({ appid: "1037724072951294", xfbml: true, version: & # 39; v2.5 & # 39; }); };
(the function (d, s, id) { var js, fjs = d.getElementsByTagName (s)[0]; if (d.getElementById (id)) {return;} js = d.createElement (s); js.id = id; js.src = "http://connect.facebook.net/en_US/sdk.js" fjs.parentNode.insertBefore (js, fjs); } (document, "script", "facebook-jssdk"));
$ 10 (Body). ({ click: function () { / / facebook save button ajax If fb.xfbml.p (); } }, ".facebook-save");
// share the password if ($ (content-sticky) length> 0) { if ($ (window) .width ()> = 768) { $ (window) .on (& quot; scroll & quot;) () have scrollTop = $ (this) .scrollTop (); $ ("Item") each (function () { if (scrollTop> = ($ (this) .find (". content-body"). $ (This) .find ("The Sticky Content") AddClass (& quot; sticky & quot;). () () () .find (& # 39 ;. content-body & # 39;) offset () top + $ (this) .find $ (This) .find ("Sticky Content") RemoveClass (& quot; sticky & quot;). CSS ({& # 39; 0px & # 39; top & # 39;: & # 39; auto & # 39;}); } something else { $ (This) .find ("The sticky content"). AddClass (sticky). Css ({ "down": "initially", Top & # 39 ;: & # 39; 76px & # 39; }); } } something else { $ cs (& # 39; bottom & # 39;: & # 39; auto & # 39; top & # 39; 0 & # 39;}); } }); }); } }
// click share $ 10 (Body). ({ click: function () { var $ this = $ (this), dataShareType = $ this.attr ("Data Sharing Type"), dataType = $ this.attr ("data type"), dataId = $ this.attr ("date-id"), dataPostUrl = $ this.attr ("data-post-url"), dateTitle = $ this.attr ("date-title"), dataSef = $ this.attr ("data-boss");
switch (dataShareType) { facebook case: fb.u de ({ methods: "parts", href: dataSef, }, function (answer) { if (response &&! response.error_message) { updatehit (); } });
pause;
"twitter" case: shareWindow (& https: //twitter.com/intent/tweet? via = webtekno & text = & # 39; + encodeURIComponent (dataTitle) + & # 39;% E2 96% B6 & encodeURIComponent (dataSef) ) updatehit (); pause;
"gplus" case: shareWindow (& # 39; https: //plus.google.com/share? url = & # 39; + encodeURIComponent (dataSef)); updatehit (); pause;
"mail" case: window.location.href = & # 39; mailto :? subject = & # 39; + encodeURIComponent (dataTitle) + & # 39; & body = & # 39; + encodeURIComponent (dataSef); // updatehit (); pause;
"whatsapp" case: window.location.href = & # 39; whatsapp: // send & # 39; text = & # 39; + encodeURIComponent (dataTitle) + & # 39;% E2% 96% B6 & amp; encodeURIComponent (dataSef); updatehit (); pause; }
shareWindow (url) function { window.open (url, "_blank", "toolbar = yes, scrollbars = yes, resizable = yes, top = 500, left = 500, width = 400, height = 400"); }
function updateHit () { $ .Axax ({ type: "POST", url: dataPostUrl, date: {contentId: dataId, contentType: dataType, shareType: dataShareType}, success: function (date) {
if ($ (video showcase) length> 0) { $ container = $ (".-video-showcase"); } else if ($ (& # 39;[data-id="' + dataId + '"]& # 39;). length> 0) { var $ container = $ ("article[data-id="' + dataId + '"]'); } otherwise if ($ (& # 39; .wt-share-item[data-id="' + dataId + '"]& # 39;). length> 0) { var $ container = $ (& # 39; .wt-share-item[data-id="' + dataId + '"]'); } something else { $ container = null; }
// var $ container = dataType == & # 39; video & # 39 ;? $ (& Video showcase): $ (& # 39; article[data-id="' + dataId + '"]');
if ($ container! = null && $ container.length> 0) { var $ badged = $ container.find (".wt-share-badge-" + dataShareType);
find $ headerCount = $ (& # 39; content-header & # 39;), find (& .wt-share-count & # 39; $ containerCount = $ container.find (".wt-share-count"), value = parseInt ($ containerCount.html ()) + 1;
$ container.data ("share", value); //$containercount.html(value A);
if ($ headerCount.length> 0) { //$headercount.html(value A); }
if ($ badged.length> 0 && (dataShareType == & facebook & # 39; | dataShareType == & # 39; twitter & # 39;)) if ($ badged.hasClass (& # 39; is visible & # 39;)) { //$badged.html(dat A); } something else { //$badged.addclass('is-visible').html(dat A); } } }
} }); } } }, ".wt-share-button") }); [ad_2]
Source link